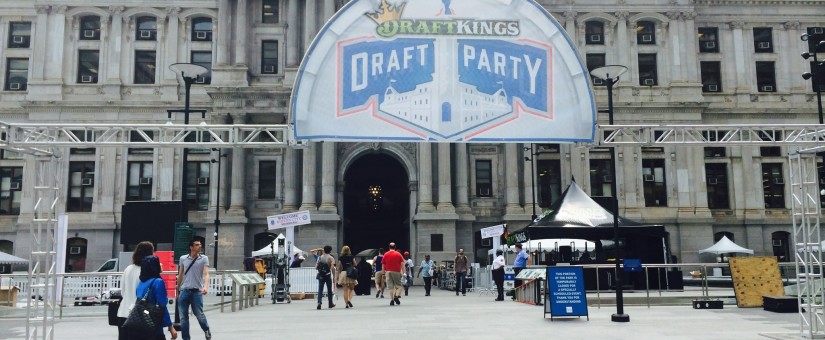 On July 14, 2015
1 Comments
audio visual, large scale events, philadelphia 76ers, sixers, special events
The Philadelphia 76ers always held a draft party in the Wells Fargo Center, their home arena for select VIP guests and friends. This year they wanted to do something bigger – much bigger – to celebrate the 2015 NBA draft. Closing down the entire front of Philly's City Hall at the new Dilworth Plaza and inviting 6,000 people sounds good, doesn't it?
A week before Eventions Productions was tasked with providing A/V and lighting for the party, we sent our client a video which was a simulated rendering of what we were going to do on event day. (You can watch that video below.) Eventions Productions was tasked with providing two large high-definition video screens to allow the entire audience to watch the draft live. A high powered sound system was used to cover the entire park with crystal clear audio from the TV feed, a DJ, as well as live interviews with past and present Sixers stars and executives. We chose fun lighting in the tented and open areas to provide additional ambiance and excitement to the event site.
As the title says, not every event is all sunshine and roses, and this one literally lacked both. While there was always a slight threat of rain, when we arrived onsite at 5:30am to begin installation, it was a beautiful sunny morning. As the day went on, the sky began to cloud up and by event start time, it started to drizzle. Thirty minutes into the event, there was a steady rain that did not let up until we finished the breakdown in the early morning hours. We always say that it's easy to do an event in perfect conditions, but the real superstars shine when things such as the weather turn south. We are happy to say that all of our inclement weather plans worked perfectly- from weatherproofing the equipment to weatherproofing the electrical needs- and we had zero problems. Our event partners also all stepped up in less than ideal conditions to execute a great event in the rain: Tenting by Eventquip, Décor and signage by Evantine, catering by Garces, and Inflatables fun by Tonz of Fun.
In the end, the Sixers were super happy with the event (and their first pick!) and as you can see from the pictures -no one let a little -ok, a lot -of rain dampen the celebration.