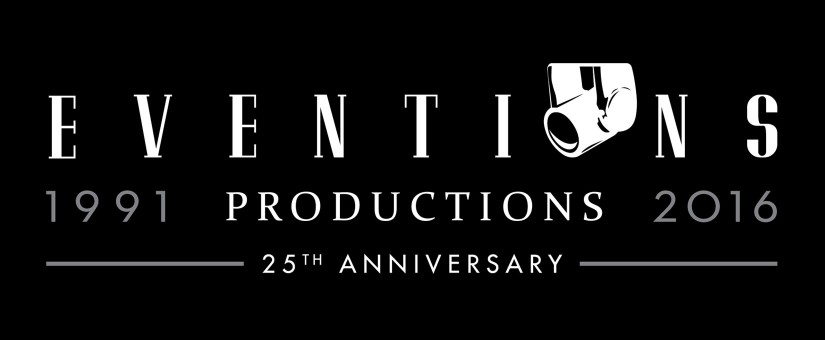 On January 13, 2016
0 Comments
25th anniversary, 25th anniversary logo, anniversary, corporate anniversary, silver anniversary
2016 marks the 25th anniversary of Eventions Productions. Where does the time go?! How could the height of Pearl Jam and the release of Selma and Louise take place so long ago? When I started the company as a DJ out of my Mom's garage back in 1991, little did I know that 25 years later Eventions would turn into a full-fledged event production company executing over 1,000 events a year with a full time staff of 12 people and a part time staff of 55.
It's been an exciting adventure so far, and it definitely wouldn't have happened without the wonderful partners, clients, and team members we've had the pleasure of working with. We're going to use the beginning of 2016 to take a look back on some of the best, most humorous, and most challenging events we've done to date. We'll do this knowing full well that this event review will help us charge forward and continue exceeding client expectations to the best of our ability in 2016.
To mark this silver-anniversary occasion, we've created a new logo that reminds us where we came from, and helps us celebrate this milestone all year long. The logo kept true to its original form with some 25th anniversary embellishments. You can check out our new logo on our site and in our signature now. We have a few other tricks up our sleeves, but don't want to give them away just yet.
We'd love for all of our friends, colleagues, and partners to help us celebrate, so we'll be posting 25 of our favorite event memories on social media in the months of January and February. We'll be tagging some of you, and we hope you participate by reminiscing about what made that particular event amazing.
Thanks for your continued support and here's to 2016!!
Brian Toner, President