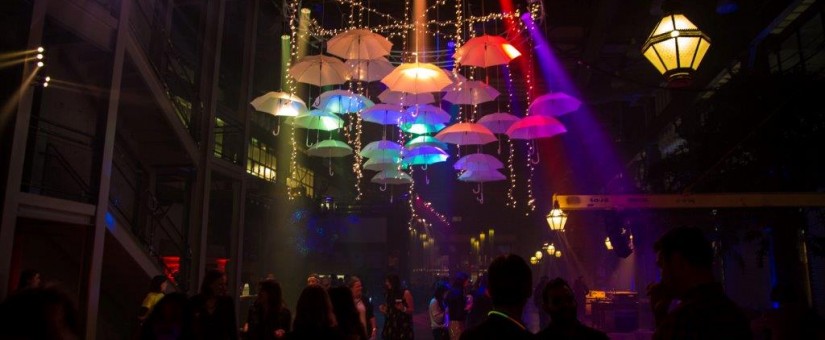 On January 13, 2016
0 Comments
corporate events, event production, holiday party, Urban Outfitters
Once again Eventions Productions was honored to help Urban Outfitters design an amazing holiday party for over 3100 employees in their corporate headquarters in Philadelphia. Each year the party has an "interesting" theme as only the creative geniuses at Urban could do.
This year's theme was Burning Man, the annual gathering of thousands of people in the Black rock desert of Nevada.  At Burning Man the community explores various forms of artistic self-expression, created in celebration for the pleasure of all participants. Participation is a key precept for the community – selfless giving of one's unique talents for the enjoyment of all is encouraged and actively reinforced. Some of these generous out-pourings of creativity can include experimental and interactive sculpture, building, performance, and art cars among other mediums.
We ran with the theme and helped the event designers bring different areas and "art installations" to life. A multimedia umbrella installation, a high tech DJ Booth and dance floor and a huge projection of a burning man ( and woman) brought the theme to life.
Copious amounts of fun foods and drinks had the party goers in a festive mood and numerous arcade games, table games, food trucks, body painting and selfie booths kept the crowd entertained all night.
Watch the making of this amazing event below!