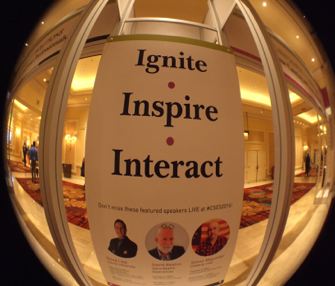 On March 23, 2016
0 Comments
corporate events, event design, events, large scale events, special events
Catersource, is a coming together of top event professionals from all over the map. This year the conference was held in Las Vegas, Nevada and presented the tagline Ignite. Inspire. Interact.
The conference focused on how to:
Transcend trends
Build a culture within your teams and companies
Always be "show" ready.
The first two days at Catersource were packed with educational sessions for industry professionals of all levels.  Our goal at Eventions Productions was to take classes and interact with people that would challenge us to take our creative thinking to the next level.  Most of the sessions were directed at caterers, decorators, florists and chefs, so we concentrated on taking our learnings and figuring out how to apply them to our clients.
Below are some are key takeaways we garnered from two speakers who reinforced and refined the process we've already implemented.
Doug Lipp, former head of Disney University and training, launched into his talk about 7 ways to make your company and experience better.  The one that really resonated with us was his concept of keeping priorities straight when setting a focus for the brand. His operational order was Safety, Courtesy, Show and THEN Capacity.  (SCSC)
Aside from safety, there isn't anything that cannot be put on hold to focus "in the moment." Courtesy (customer service) and Show (customer experience) are important but secondary to safety.
He challenged us to think about what we are currently doing that we should stop, change or continue using this SCSC philosophy.
 Kristin Banta, CEO and designer for Kristen Banta designs, delivered a presentation filled with visual examples of her design process.  She challenges clients to go beyond using Pinterest boards by giving concrete items to help inspire the design.  Kristin talked about how important it was to constantly look for ways to add value to a project's design while also adding value to her own brand.  In essence, make sure the projects you work on are in-line with with your company's values,  brand identity and design aesthetic.
As mentioned, the tagline for this year's conference was Ignite.Inspire.Interact. It was easy to see that the build up to the conference got everyone "ignited," and through the classes, we were certainly "inspired".  The "interaction" in the form of networking, evening events, trade floor booths and discussions made this event one of the most valuable conferences for people in the event industry. It truly was a chance to celebrate the success of peers, learn from the mistakes we've all made, and cultivate new ideas inspired by the energy, people, and information at this conference.
Eventions Productions is excited to to push our clients' designs to a place that transcends trends and continues to show our brand's signature design ethic. Watch the video above to learn more about our experience at Catersource 2016!