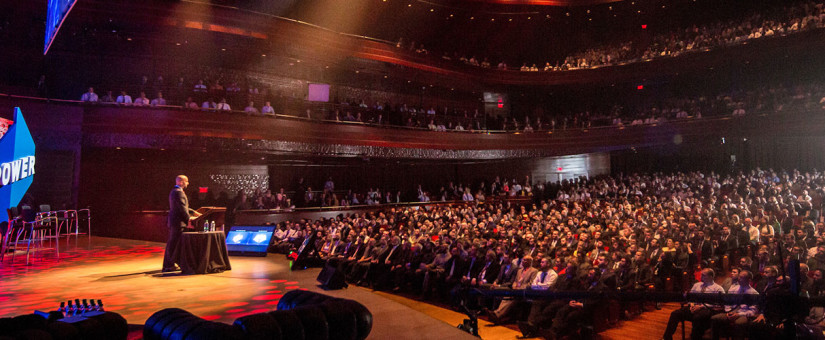 On August 28, 2016
0 Comments
corporate event, national sales meeting
In early July, we were tasked with taking Power Homes Remodeling Group's national sales meeting and making it more interesting and engaging for their guests.  After much brainstorming, we came up with a take off of the wildly popular TED Talks.
Power Home Remodeling Group is one of the nation's largest  and must successful home repair companies in the country. Their goal was to engage and motivate their top sales people from around the country as they assembled in Philadelphia for a three day corporate event.  The stage at the magnificent Kimmel Center For The Performing Arts was the perfect place to construct their great looking set.
We began by designing a funky, eclectic looking set that featured a main 20' rear projection video screen to show live images as well as presentation slides.  A 30' jib camera and two additional cameras provided complete coverage of the stage and audience.
We then designed a three dimensional set that resembled the famous Ted Talks set, incorporating different seating options and areas for the presenters to be stationed. During different parts of the program, there were bar stools, couches and other seating available to offer the client a variety of places to present from.
The textured surfaces that formed the background of the set allowed us to light them with varying colors and patterns so that we could change the look and feel of the stage for each part of the event.
Guests were amazed, client was satisfied, and we're already working on ideas to top it next year!