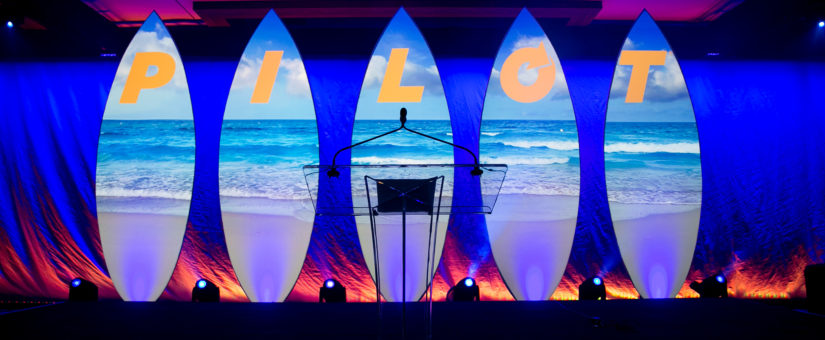 On May 17, 2017
0 Comments
corporate event, pixel mapping, stage design
This past April, the Eventions Crew headed out West to Huntington Beach, California to produce a five- day event for one of our favorite repeat corporate clients. The two main events we were involved with during their corporate retreat were their keynote speaker address and their awards ceremony. We were tasked with corporate event lighting and overall stage design.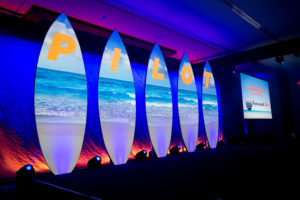 To set the ambiance of their theme – Surfing and the California lifestyle – Eventions designed and built custom scenery for the stage. We built five custom surfboards that were over 14 feet tall and weighed almost 300lbs each – needless to say, we were actually surfing on them. Our video technicians pixel mapped the surfboards to make them into five giant video screens that allowed us to project multitudes of custom content onto them to bring the theme to life.  Our video content creators made over 50 different looks for the surfboards, from scenes that looked like realistic surfboards to live footage of people surfing, as well as custom animations of the client's logo.
Two high-definition video screens were placed on the left and right of the stage to allow us to capture the action live on stage and project it onto the screens for everyone to see, plus a clear podium made for a clean stage setup.